Minardi F1 Team

The surroundings of the Hungaroring pit lane, in late August 2003, may have been a little unusual, but the method of celebration was traditional, involving the pouring of champagne, the cutting of an artistically decorated cake and the organising of a team photograph. That was how Minardi marked its 300th Grand Prix - another milestone in the history of the Faenza-based team, whose name has become synonymous during its years in Formula One with tenacity and opportunity.

Founded by Gian Carlo Minardi in 1979, with the aim of competing in the European Formula Two Championship, the Minardi Team made its Formula One debut in 1985. After spending its first few seasons in motorsport's top category acclimatising to the demands of Grand Prix racing, the team took its first World Championship point in 1988, with the 6th place of Pierluigi Martini in Detroit (USA), then in 1989, scoring in Great Britain (fifth and sixth places), Portugal (fifth) and Australia (sixth).


Minardi's best season to date was 1991, when its effective, Ferrari-powered chassis helped the team to claim seventh place in the final standings of the World Constructors' Championship. In 1992, Minardi switched from Ferrari power to the Lamborghini V12. A sixth-place finish at the Japanese Grand Prix provided the team with a point for its efforts during the season.


The 1993 car was designed under the supervision of experienced Austrian, Gustav Brunner, and the chassis proved to be highly effective, fourth place in South Africa, fifth in Monaco, and sixth at Donington and Imola propelling Minardi to eighth place in the Constructors' Championship.

During 1994 and 1995, Minardi entered into a joint-venture with Scuderia Italia. Unfortunately, a series of commercial difficulties jeopardised the team's future and, by the end of 1996, an alliance formed by Gabriele Rumi and Flavio Briatore acquired a majority stake in the company.

The 1998 season marked a turning point for Minardi. Briatore severing his ties with the company and his shareholding being acquired by Gabriele Rumi. The successful Italian businessman, who headed up the Fondmetal group of companies, thus became the majority shareholder in the team and embarked on an extensive restructuring and upgrading programme. As a result, Minardi was joined by new, highly skilled personnel on the technical side, with Gustav Brunner making a return to Faenza.

In 1999, the Minardi personnel line-up was further strengthened by the arrival of Cesare Fiorio as Team Manager and Sporting Director. As in 1998, the Faenza-based team was ranked 10th in the final World Championship standings, in this case, courtesy of a very valuable point scored at the European Grand Prix by F1 "rookie", Marc Gené. One of the most satisfying aspects of the 1999 season was the excellent reliability of the M01, which helped its drivers to 10 top-10 finishes.


The 2000 campaign marked Minardi's 16th year in Formula One, and although the team did not succeed in scoring any points during the course of the season, it retained its tenth-place ranking in the World Championship, finishing ahead of the notably better-funded Prost squad.

In 2005 the Minardi F1 Team was acquired by Red Bull and now, in 2006, the new Minardi Team by GP Racing is going to start a new adventure in Euroseris 3000.

Minardi Team

2006


2006 Model: Lola B02/50
Drivers: Rodriguez – Caceres – Tuka Rocha – Rigon – Ippoliti – Nunes
Engine: V8 Zytek
Technical Dir: Breda
Tires: Michelin

2005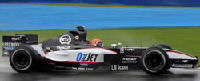 2005 Model: PS05
Drivers: Albers – Doornbos – Toccacelo
Engine: Cosworth TJ2005 Series 10
Technical Dir: Tredozi
Tires: Bridgestone

2004


2004 Model: PS04B
Drivers: Bruni – Baumgartner
Engine: Cosworth Racing CR-3L
Technical Dir: Tredozi
Tires: Bridgestone

2003


2003 Model: PS03
Drivers: Verstappen – Wilson – Kiesa
Engine: Cosworth Racing CR-3
Technical Dir: Tredozi
Tires: Bridgestone

2002


2002 Model: PS02
Drivers: Webber – Yoong
Engine: Asiatech AT02
Technical Dir: Tredozi
Tires: Michelin

2001


2001 Model: PS01
Drivers: Alonso – Marques – Yoong
Engine: V10 European
Technical Dir: Tredozi
Tires: Michelin

2000


2000 Model: M02
Drivers: Gene – Mazzacane
Engine: Fondmetal V10
Technical Dir: Brunner
Tires: Bridgestone

1999


1999 Model: M01
Drivers: Badoer – Gene – Sarazin
Engine: V10 Ford Zetec
Technical Dir: Brunner
Tires: Bridgestone

1998


1998 Model: M198
Drivers: Nakano – Tuero
Engine: Ford Cosworth V10
Technical Dir: Tredozi
Tires: Bridgestone

1997


1997 Model: M197
Drivers: Katayama – Trulli – Marques
Engine: V8 Hart
Technical Dir: Tredozi – Gennari
Tires: Bridgestone

1996


1996 Model: M195 / B
Drivers: washing – Fisichella – Lamy – Marques
Engine: Cosworth V8
Technical Dir: Tredozi – Gennari
Tires: Goodyear

1995


1995 Model: M195
Drivers: Martini – Badoer-Lamy
Engine: Cosworth V8
Technical Dir: Cost
Tires: Goodyear

1994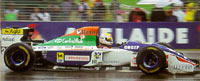 1994 Model: M194
Drivers: Martini – Alboreto
Engine: Cosworth V8
Technical Dir: Cost
Tires: Goodyear

1993


1993 Model: M193
Drivers: Fittipaldi – Barbazza – Martini – Gounon
Engine: Cosworth V8
Technical Dir: Cost
Tires: Goodyear

1992


1992 Model: M192 / M192 + L
Drivers: Morbidelli – Fittipaldi – Zanardi
Engine: V12 Lamborghini
Technical Dir: Cost
Tires: Goodyear

1991


1991 Model: M191
Drivers: Martini – Morbidelli – Moreno
Engine: Ferrari V12
Technical Dir: Cost
Tires: Goodyear

1990


1990 Model: M190
Drivers: Martini – Barilla – Morbidelli
Engine: Cosworth V8 Mader
Technical Dir: Cost
Tires: Pirelli

1989


1989 Model: M189
Drivers: Sala – Barilla – Martini
Engine: Cosworth V8 Mader
Technical Dir: Cost
Tires: Goodyear

1988


1988 Model: M188
Drivers: Hall – Campos – Martini
Engine: Cosworth V8 Mader
Technical Dir: Caliri
Tires: Goodyear

1987


1987 Model: M186
Drivers: Nannini – Campos
Engine: V6 M. Modern
Technical Dir: Caliri
Tires: Goodyear

1986


1986 Model: M185 / M186 + B
Drivers: Nannini – Campos
Engine: V6 M. Modern
Technical Dir: Caliri
Tires: Pirelli

1985


1985 Model: M185
Drivers: Martini
Engine: Cosworth V8 – V6 M. Modern
Technical Dir: Caliri
Tires: Pirelli